Earlier this week, I made the mistake of watching Microsoft's advertisement for their new product, Songsmith.
[Valleywag, which has some Songsmith remixes, urged me not to click the link to the video - I am passing on their warning. The horribleness stuck in my head and I actually sang it in the shower. You have been warned.]
The upshot of the product is that you sing into a microphone, and the program creates a midi monster to 'match' your vocal stylings.
Wrongsmith [via Metafilter] is compiling Songsmith remixes of popular songs and organizing them by artist.
I immediately clicked on The Clash (surprise!), and was treated to the most horrible rendition of Should I Stay or Should I Go that could ever possibly exist. Joe Strummer is rolling in his grave.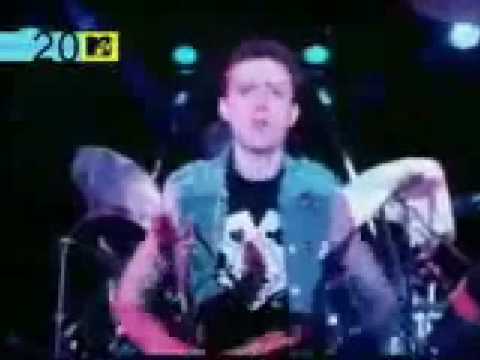 What's great about Songsmith, though, is how incredibly it stuffed the song up. (I haven't had any music theory since I was 14, so I'm just going by ear on this.)
It's so off that at first I thought it'd gotten the timing of the beats wrong. But, no, it appears that it managed to figure out that Joe mostly comes in on the two beat (or just before).
It works for The Clash because of the sparseness of the music; overloaded with midi chords and beats, it sounds incredibly off.
Second, it's misjudged the key, resulting in horrible, horrible shifts and key changes as it tries to accommodate both the song and Joe's tendency to (intentionally?) go flat at the end of phrases.
Actually, possibly the worst part is Songsmith's inability to recognize the end of verses and choruses. It just elides the whole song together and is awful.
The nadir is after the bridge (at about 2:16). It's been jamming along on it's own little midi piano thing, when suddenly the singing starts again. Ear bleeding ensues.
I haven't listened to any of the others on the site, but I can't imagine them being worse than this.
Update: Actually, Billy Idol's White Wedding is pretty wonderful. Wrong, wrong, wrong - but, with the video, sublime.
And Wonderwall is laugh out loud funny, but kind of works in a weird way.
Sphere: Related Content
Vaguely Related